Yesterday morning, not surprisingly, Andrea Pirlo, the football legend, announced his retirement from being an active player, at the end of the playoffs in the United States, which takes place in December. Although my feelings are mixed with him, as a fan of AC Milan it is time to recall the wonderful career of the man who controlled the midfield position at Brescia and whom politely refused Pep Guardiola, world champion, Andrea Pirlo.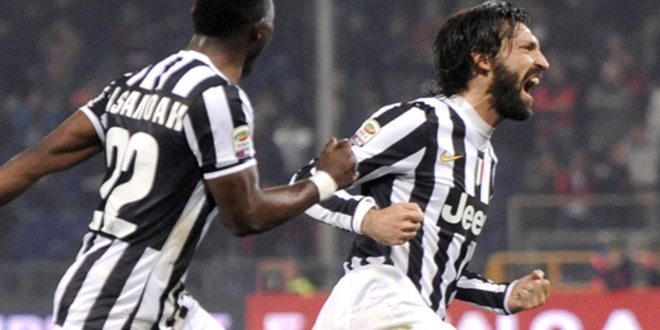 Andrea Pirlo, was born in Brescia at 1979. Already as a child he managed to highly impress his coaches in Brescia's children's group, it was then when they knew, here was someone who would someday be one of the best players in the world. At the age of 14, he has been invited to Italy's national young teams, gaining a reputation as one of the most promising talents of Italian football.
Pirlo started his mature career in 1995 at Brescia, but the real breakthrough of the team was made by Pirlo, in the 96-97 season, when he was a key part of Brescia's triumph in the Serie B Championship and in their promotion to the Serie A. In Brescia's return season, to the first division, along with Emiliano Bonazzoli, Brescia couldn't stay in the league despite the excellent season of Pirlo and a fight for survival took place – until the last round.
Following Pirlo's excellent season, he was bought by Inter, where he struggled to stand out and get show time. And after two difficult years that included being borrowed to Regina and Brescia, Pirlo was sold from Inter in the summer of 2001, to the municipal rival, Milan. And this is said – "Everything else is history."
After an unsuccessful first season at AC Milan, Ancelotti changed Pirlo's position on the field and placed him above defense. In the new role, Pirlo blossomed immediately and an excellent season of him and the other major Milan stars of the time (Shevchenko, Inzaghi, Kaka later, Maldini and more …) led to Milan's victory in the Champions League and of the Italian Cup. In the season after the win, Pirlo was already an integral part of Milan's squad and the team's top players of that season, which Milan finished as a champion. Phenomenal free kicks, exits from irrational distances, precise lifts from all parts of the court and an almost divine ability to find the head of Inzaghi in every long ball. All this made Pirlo one of the best players of the club and the world, and the only player of which according to his coach, Carlo Ancelotti, was irreplaceable
In national teams, as in Milan, Pirlo was a very central component. Despite an unsuccessful tournament in Euro 2004 and a corruption scandal that shook Italian football in the summer of 2006, the Italian team managed to win the World Cup with perfect ability throughout the tournament. The winner of the World Cup was obviously Fabio Cannabró, but many claim that Pirlo deserved the prize, for it was him who simply left the whole world gaping, with phenomenal abilities in every game, as well as his artfully goal preparation for Fabio Grosso at the 119th minute in the semifinals against Germany.
That summer there was hardly any team that did not try to buy Pirlo, who, for his part, preferred to stay in Milan, and especially in Italy. Money was not the main consideration in Pirlo's career. Also in his biography: I think therefore I play, Pirlo tells that he never felt short of money and that he just wanted to stay in Milan, from which Pirlo was not even for sale. In the next few years in Milan, Pirlo continued to be one of the best midfielders in the
world, when he wins with the club in the Champions League in 2007, in the European Super Cup of that year and later in the Italian championship in 2011.
Pirlo, who wasn't getting any younger, felt that he needed a new challenge. In Milan's championship season, Pirlo had trouble displaying his famous abilities and was pushed into the bench later this season for Marc van Bommel. At the end of that season, in one of the most surprising transfers of that summer, Pirlo left Milan. To Juventus. For Free. Yep, for free. Milan (which had deteriorated further into a deep abyss) did not see Pirlo as a player who could continue to be relevant and easily released him to Juventus. In his book, Pirlo tells that Milan did not hesitate to release him, and Adriano Galliani brought him a pen as a gift of departure. A simple pen, with Milan's logo on it. Pirlo even ends his book with the line – "Well, at least I have a pen.
The move to Juventus was the best thing that could happen to Pirlo. His hunger returned, his unique individual play style had returned to him, the signs of an old age, along with his critics, disappeared and together with his free kick, which did not stop finding the goal corners, and his new team that Antonio Conte had built, which was, simply put, a perfect team, Pirlo managed to restate himself as one of the best players in the world and the best ever, when he presented four wonderful seasons with Juventus, which he won four championships, one cup and one appearance in the Champions League final, which Barcelona had won, after a 3-1 victory over the Zebras.
In the past two years, Andrea Pirlo has spent his time in New York in the American league. Of course he's not one of the best, but even now, when our sights are upon Ambapa, Isco, Benimar and, of course, Messi and Ronaldo, as soon as we get a chance to see a Pirlo's goal, it does not matter whether it's in the present or from a long time ago, does not matter if it's a free kick from 18 meters or a precise ball for the goal corners from 35 meter, no matter if you're a kid with a Messi shirt or a nervous customer in at the post office, it does not matter whether you're Milan, Inter, Juventus, or Hapoel Tel Aviv. You cannot help but stop, smile and say: brother! Pirlo is such a player!
And of course, beyond those titles, awards, and big years, no doubt that one of the greatest moments for Pirlo is the moment when he met one of the greatest writers in the history of the angle, the man whose spells at the kitchen are identical to Pirlo's charms on the field, one of Juventus's favorite fans in the world, Etai Erlich.